Would you like to attain a NJ State High School Diploma and earn up to 30 College Credits at the same time?
Attain a NJ State High School Diploma and earn up to 30 college credits at the same time! The DEED (Dual Enrollment EDucation) program allows high school (public and private) and home school students, usually juniors and seniors, to enroll in college courses for credit prior to high school graduation in a safe and caring college environment. The DEED Program helps students save both time and money.
Students who take advantage of the DEED program find many benefits, such as: experiencing college-level academics before actually entering college; saving one year's worth of college expenses; attending classes at a Pillar College campus where Christ is honored in the classroom and in Student Life activities; completing high school and college courses at the same time; transitioning more smoothly from high school to college; and, accumulating college credits before entering college and graduating college early or on time. Eligible students include anyone 16 years or older who has not yet earned a high school diploma or equivalent. Each student must complete each course with a grade of C or higher.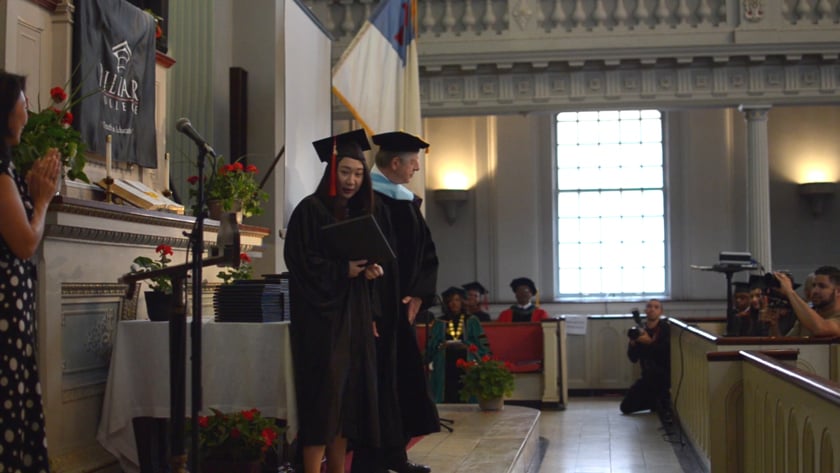 Accessibility: Students can take classes in one of our four campus locations or in their own private high school.

Inclusivity: We have a broad range of students. From high school, private school, home school; new immigrants of every age, who want to finish their high school diploma and continue on towards a degree, and students who have simply stopped attending their own high school and are referred to Pillar College because of the personalized and relational attention we can provide.

Experiential learning: Group community opportunities and counseling are available to all students in the program.
Due to Pillar College's regional accreditation with the Middle States Commission on Higher Education (MSCHE), the highest accreditation achieved at institutions of higher education, it is highly likely that colleges and universities will accept transfer credits from Pillar College. This has been the overwhelming experience of previous DEED students. Each student will receive a college transcript to send to their college of choice.
The amount of transfer credits is based on the receiving institution, not Pillar College. If the intent is to transfer into another university, it is advised to investigate the transfer guidelines of that particular university prior to entering the DEED program.
Up to 30 credits, max can be earned at the price for DEED courses, depending on schedule. The cost is much lower than you would pay if you were taking the same courses as a matriculated college student:
Only $546 per course if taken at one of our campuses
Prices vary if taken at one of our partnering high schools.
Partnering sites include:
Veritas Christian Academy
American Christian School
Calvary Academy School
Calvary Christian School
Timothy Christian School
Faith Center for the Arts
Adirondack Christian School
Offsite high schools include:
East Orange High School
Irvington High School
Contact [email protected] to learn more about partnering with Pillar College to offer dual enrollment courses at your local high school or homeschool co-op.
Are you ready to get started in the 
DEED

Program?

Admissions Documents:

Submit application materials to [email protected]