Business Administration & Management
The mission of the Business Administration and Management program is to promote the intellectual, personal, and spiritual growth of our students; to educate them in business and leadership principles; to prepare them to be transformational leaders in business, entrepreneurial ventures, nonprofits and ministry organizations. Business Administration and Management embraces a Christian worldview and encompasses the full array of organizational management and leadership curricula including introduction to business administration, marketing, management/administration, finance, strategic planning, and theories of leadership.
Students in Business Administration and Management will be mentored by faculty and field professionals for careers in churches, non-profit ministries and agencies, and for profit businesses and organizations.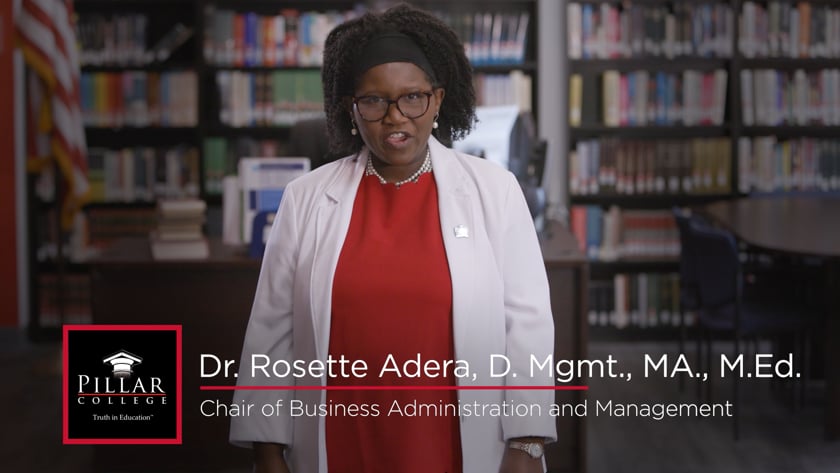 Unique Benefits and Features:
Versatility. This degree leads to many career opportunities including Human Resource Management, Accounting, Project Management, Real Estate, Risk Management, Data Analysis, Entrepreneurship, and Organizational Leadership, to name a few.

The courses are a foundation to the study of a Master of Arts in Counseling for International Students, and a critical analysis course for students and graduates of the Master of Arts in Ministry Leadership.

Skills for creativity, innovation and entrepreneurship. Students and graduates of the program have gone on to create and run successful enterprises.
Business Administration and Management, enterprise management, and innovative entrepreneurship are skills that both reflect the divine image in humans and advance God's redemptive purposes in the world. The Larger Story of God includes the stories of Abraham, Joshua, Deborah, Nehemiah, and others who owned properties, oversaw construction projects, assessed situations, and made strategic decisions. Business Administration is about the faithful and wise stewardship of resources and materials and the release of creativity and energy for the promotion of human flourishing.
Upon completion of the BA in Business Administration and Management the student will be able to: evaluate from a Christian world view perspective on ethical issues affecting management functions and its implication in organizational decision making; work in teams, using critical thinking to analyze and solve problems and effectively communicate to various stakeholders in any organization; demonstrate the use of effective written and oral business communication skills; demonstrate synthesis of managerial concepts, Christian leadership principles, and theories by developing solutions to complex managerial and leadership problems; and, apply technology to analyze problems, develop business analysis, and recommend management decisions and actionable strategies.
Concentration in Management
The Management concentration is ideal for students interested in a wide variety of industries and company types. Students studying Management will be prepared for an assortment of career possibilities, including Human Resources, Retail Management, and Banking & Finance. Challenging classes and a practical internship provide both hands-on experience and well-rounded business education.
Concentration in Organizational Leadership
There is a plethora of information and approaches to teaching Organizational Leadership but very few examine this area from a biblical integrative point of view as presented at Pillar College. Indeed, we have students from all walks of life who are associated with both for-profit and Non-profit organizations such as churches and who see the necessity for this type of specialized emphasis where they are able to return to these organizations with the skills to facilitate the transformation process of their workplaces and the society in general and to help set the groundwork for others to maximize their God-given abilities.
Required Courses:
BUSM: *Organizational Development
BUSM: *Project Management
BUSM: *Understanding the Multicultural Organization
BUSM: *Administrative Leadership
Concentration in Entrepreneurship, Non-Profit
Our society is strong because of the contribution of Small Businesses and as such prides itself on opportunities that are given to entrepreneurs who make this possible. However, over the years we have seen where a number of large businesses fell (not for a lack of brilliance, or good systems, etc.); because of a lack of sound and sustainable ethical principles. Here at Pillar College, Business students learn how to have a strong Christian worldview and ethical values and how to incorporate those sound Christian values as compliments in their daily business decisions. In addition, we are convinced that this integrative approach provides a solid foundation for sustainability and it is not antithetical to the realization of individual and organizational goals and aspirations for-profit and business growth
Required Courses:
BUSM: *Entrepreneurship
BUSM: *Creating Non-Profit Organizations
BUSM: *Managing People in a Small Business Environment
BUSM: *Financial Management and Raising Capital
Concentration in Project Management
There are 10k annual openings for Project Management roles with a median salary of $109k, and the demand for Project Management occupations continues to grow through 2025.* The Project Management competencies students will develop include: project-planning skills, personnel management skills, team management skills, project-based learning, strong business communication skills, use of project management tools, risk assessment skills, critical and systems-based thinking, and understanding the core Project Management philosophies. By the end of their coursework, students will be ready and confident to undertake the following certification: Certified Associate in Project Management (CAPM).
Project Management occupations including, however, not limited to:
General and Operations Managers
Project Management Specialists and Business Operations Specialist
Personal Service Managers
Entertainment and Recreation Managers
Construction Managers
First-Line Supervisors of Construction Trades and Extraction Workers
Industrial Production Managers
Concentration in Supply Chain Management
There are over 18,000 people working within the growing Supply Chain industry and increasing demand for Supply Chain Management (SCM) occupations through 2025. According to the Bureau of Labor Statistics, jobs that utilize SCM skills such as Operations Research Analysts, are expected to experience strong growth through 2026.* The SCM concentration is designed to provide students with skills to help them secure an entry-level position in SCM. SCM competencies the students will develop include: capacity analysis and planning, demand/supply management, logistics and distribution, market and manufacturing trend analysis, currency factors, legal practices, and cultural/communication skills. In addition to classroom training, students will complete a capstone course created in partnership with corporations, giving them the opportunity to gain hands-on experience in the type of work they will be required to perform in a professional setting and create a portfolio of work that can be shared with potential employers.
Supply Chain Management occupations including, however, not limited to:
Logisticians, Industrial Production Managers
Purchasing Managers
Transportation
Storage, and Distribution Managers
The B.A. in Business Administration & Management degree can lead to numerous careers including, however, not limited to:
Project Management
Supply Chain Management
Human Resource Management
Accounting, Sales, Project Management
Risk Management
Data Analysis
Personal Finance Advising
Marketing
Entrepreneurship
Management of non-profit organizationsSource *Occupational Outlook Handbook: U.S. Bureau of Labor Statistics (bls.gov)
Concentration in Data Analytics
Data Analytics is a flexible and in-demand field. There are urgent needs for professionals with this background in a wide array of sectors including business, finance, and healthcare. Starting salaries are high, and according to the Bureau of Labor Statistics, the field is growing at five times the national average1. The Pillar College Data Analytics concentration was developed to closely model the innovative Data Science curriculum from the University of California, Berkeley. It seeks to provide a robust education in programming and computer science for a wider, more diverse range of students.
Required Courses:
Data Analytics Core – 15 Hours
Foundations of Data Analytics I
Foundations of Data Analytics II
Principles and Techniques of Data Analytics I
Principles and Techniques of Data Analytics II
Data Analytics Practicum
Mathematics Requirements – 11 Hours
Calculus I
Statistics
Probability
Programming Requirements – 12 hours
Internet History, Technology, and Security
Programming for Everyone I
Programming for Everyone II
Data Structures
https://www.bls.gov/ooh/math/operations-research-analysts.htm
Concentration in Computer Science
Few fields offer as much room for career growth and high-paying salaries as Computer Science. According to the Bureau of Labor Statistics, software developers are among the highest-paid professionals in the modern workforce2 and the field is expected to grow at a pace far above the national average. The Computer Science concentration at Pillar College prepares students for a career in Software Development, as Technical Project/Program Managers, and a variety of other prestigious and lucrative positions.
This concentration—sponsored by Google—was developed in conjunction with over 20 Fortune 500 employers, plus academics and other industry leaders. Unlike many other programs, it offers a rigorous Computer Science education without high-level math classes. It places a premium on hands-on, project-based learning. Students will be required to build an application or other project to showcase their learnings.
Required Courses:
CS Core – 18 Hours
CSC I – Internet History, Technology, and Security
CSC II – Programming for Everyone I
CSC III – Programming for Everyone II
CSC IV – Web Development
CSC V – Application Development I
CSC VI – Application Development II
CS Major Requirements – 18 Hours
CSM I – Introduction to C – How Computers Really Work
CSM II – Hardware I – Inside of a Microprocessor
CSM III – Data Structures
CSM IV – Algorithms
CSM V – Product Development
CSM VI – Capstone Project – Product Launch
Cognates – Approx 15 Hours
Calculus I
Statistics
Theory of Probability
Organizational Behavior
https://www.bls.gov/ooh/computer-and-information-technology/software-developers.htm
Concentration in Healthcare Administration and Management
The healthcare sector accounts for nearly 20% of the entire U.S. GDP1, and jobs are expected to increase by 32% over the next decade2. The Pillar College concentration in Healthcare Administration and Management prepares students to meet the demands of this in-demand industry, imparting the skills and knowledge needed to begin a lucrative career within the modern healthcare workforce. Students will gain an understanding the structure of the American healthcare system, address legal and ethical issues, as well as healthcare analytics, accounting concepts, and much more.
Required courses:
HAM I – Health Systems of the United States
HAM II – Health Law and Ethics
HAM III – Health Data and Analytics
HAM IV – Healthcare Finance
HAM V – Healthcare Service Operations
HAM VI – Healthcare Strategy Capstone
1. Center for Medicare & Medicaid Services
2. Bureau of Labor and Statistics